We offer the best Steel Detailing
ModelCore Inc. is an Engineering & structural steel detailing company based at Lewes, DE 19958. We have experience in detailing steel conventional structures and high-rise building using advance software.
We provide consolidate services to our clients from bidding stage to construction stage of steel structures. We deal with structural steel detailing, connection design (using SDS/2) and checking as per American Institute of Steel Construction (AISC) standards for commercial and non-commercial structures. We prepare details, plans, sectional and other relevant documents for fabrication and erection of steel members.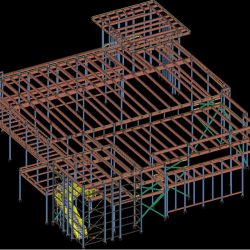 Conventional Steel Structures

Commercial Steel Structures (High rise Office building, shopping malls, Hospital structure, Residential building, Warehouse, Stadium, auditorium)

Pipe rack structures

Embeds in concrete/CMU walls.

Moment frames/Seismic frames.

Trusses

Industrial structures (factories, machinery support structure, Oil-& gas)

Miscellaneous Steel Detailing (Stairs, cage ladders, ship ladders, Handrails, Guardrails, Bollards grating etc.)

Bidding & Estimation services.

Detailing based on NISD, AISC, CISC codes.

Quality standards through upgrading of QA methodologies and techniques.

Skill and technology levels through continuing education

Dedicated team of Engineers, Checkers & Detailers.
Procurement material list (PML)/Advance bill material.
Connection design.
Anchor Bolt/Embed plan and shop drawings.
Approval stage drawings
Shop drawings for fabrication
 DXF, Fab troll, DWG & CNC in various format.
 Bill of material (KISS)
Field bolt & shop bolt reports (Summary & point to point)
Erection drawings.